Denali National Park | Day One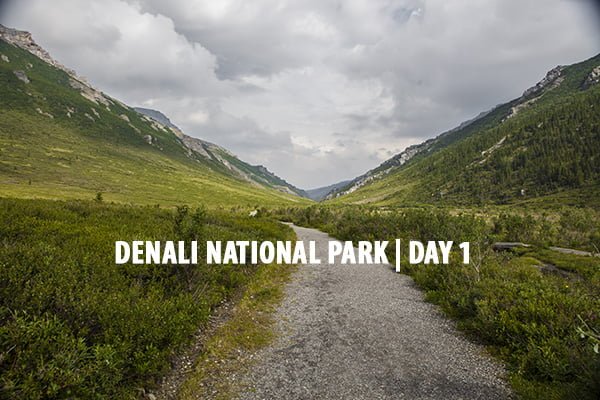 Denali National Park in Alaska was a cool/different experience. Unlike other national parks, you can't drive all the way through this one in your own vehicle – unless you have the correct permissions or you're camping at one of their sites. You can, however, drive to Mile 15; which is exactly what we did on day one.
We didn't see any bears! We're still on the lookout for them as my dad hasn't seen one yet.
We knew we were going to have a full day ahead of us so we went to a local cafe called Rose's Cafe for breakfast. It was pretty cute, and kinda vintage which I liked.
1. Rose's Cafe
After our gigantic breakfast (hello full tummy!!) we drove to the national park. We drove to Mile 15 and parked our car there. They have this cool hike you can do along the Savage River which we decided to do. I forgot to mention, en route to Mile 15 we stopped at the Mountain Vista Trail and did a baby hike there. That was cool, we saw a super tame squirrel up close!
See pics below!
2. Mile 15 Savage River Hike
Did you see that cute chipmunk with its mouth full! eeee I was so excited that it let me take it's picture. We ate our sandwiches on the sides of one of the mountains and then we walked back to our car along the other side of the river. Before we did that, Drikus climbed to the top of that big pile of rocks you see above his picture and took some great shots of the river (and himself). I was too nervous to climb it, because it was insanely high (the pictures don't do it justice) It was sooo high, that we couldn't see Drikus at the top from the bottom!!
3. Dog Kennels
One thing that we literally stumbled across on our way out, were the dog kennels! This was amazing. We got there just at the start of the presentation, which was a great talk about what they use the Husky's for during the summer and especially winter months. They had super cute little pups there, and we could touch a few of the bigger dogs. I am so happy we got to see this, look how incredible all these dogs are! They were amazing.
And that was our first day. It was a long day.
Right at the end of the day, we went into the visitor centre and booked a tour bus for the following day to go all the way to mile 75. I'll be sharing about this with you soon!