The RV Renovation | Before & After
Alas! Here is the grand unveiling of our newly renovated Fifth Wheeler! We are really excited to share our RV Renovation with you as the finished product turned out a lot better than we ever dreamed of!
Note, I am planning on posting some more details surrounding the actual renovation and also some more pictures of the finished product.
Hopefully this gives you a good enough insight into where we are currently living. For the record, we are LOVING it. I think it's the best home we've ever lived in, between you and me 🙂
So, bit of background information. We have broken our RV into 4 main areas
– Living Room
– Kitchen & Dining
– Bathroom
– Bedr0om
LIVING ROOM AND KITCHEN & DINING MAKEOVER
Here is a better shot of the 'living room':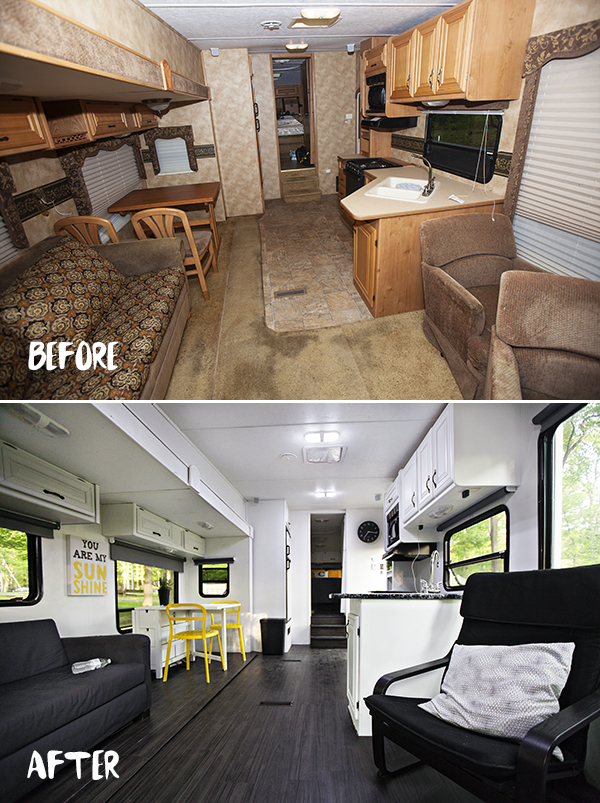 Here is a look at the fridge, new kitchen and the dining area:
Ahh, and the newly renovated kitchen!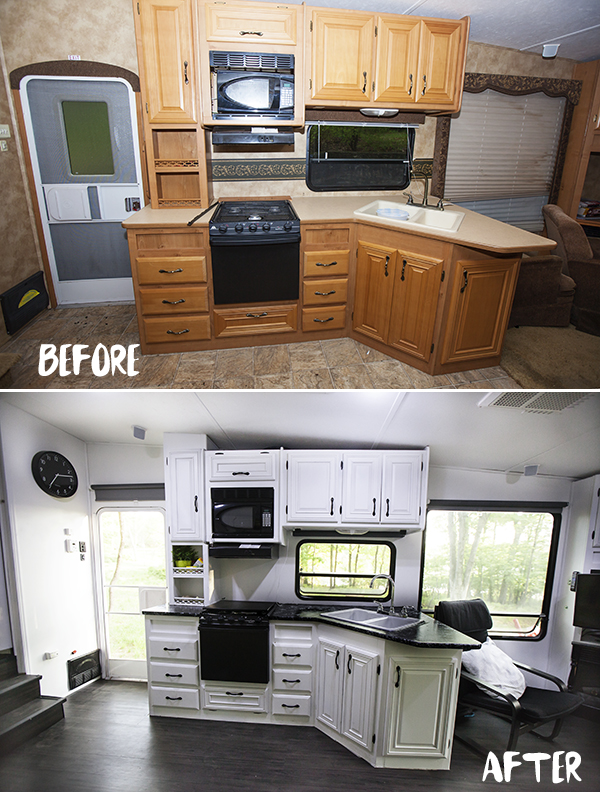 BEDROOM MAKEOVER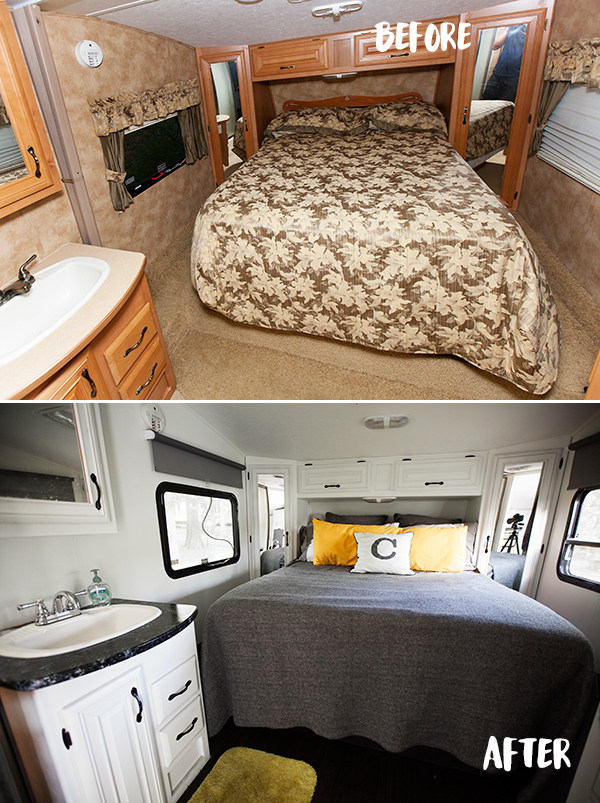 If you're wondering if the bed looks bigger in the after shots, yes it is. Drikus rebuilt and upgraded the bed so that we would have more storage below it and be able to fit a queen size mattress on top of it. Now we have a nice big, comfortable bed to sleep on and loads more storage to keep stuff hidden away in. Woohoo! Go Drikus!
BATHROOM MAKEOVER
That big white thing in the shower in the above 'after' shot is our washing machine. We keep it there when we drive and just take it out when we need to shower. It's an awesome little machine!
I'd still like to spray paint the actual toilet & shower with white epoxy spray, but we're too busy exploring the country to worry about the little things like that. After all, at least they're working! Can't complain!
And that's all for now!
FAQ
Q:  What did you use on the walls and ceilings?
A: We primed the walls, ceiling, all the cupboards and even bits of the floor with Bullseye Primer from Home Depo http://thd.co/2eXq13U Then we pick an off shade of white that we liked and sprayed it over the primer. The white really made the trailer look bigger.
Q: What washing machine did you get?
A: We bought the Panda Portable XPB36, I believe there is a newer model now XPB45 that you ca get from Amazon http://amzn.to/2fYKMv7
We stored it in the shower our whole trip and it worked great, the water could be drained down the shower and it worked very well. It has two sections a washer and dryer, we would only put half a load in the dryer at a time as we found it left our clothes drier.
Q: What flooring did you use?
A: We used the same flooring throughout the whole trailer. It's called Trafficmaster Allure Grey Maple and we go it from Home Depo http://thd.co/1Fyylx5 Our inspiration came from http://bit.ly/2fXt3Ra
Q: How did you replace the countertop and vanity top?
A: We actually did not replace the counter top and vanity top, we painted them with a kit. After the trailer was painted the counter tops looked really old and dated, replacing them seemed difficult and costly, we opted to buy a Giani™ Countertop Paint Kit, Bombay Black from amazon. http://amzn.to/2fWQ1Jx There was more than enough for both countertops and we were relly happy with the results.
Q: What did you replace the windows shades with?
A: We bought the TUPPLUR block out blinds from IKEA for our windows in the fifth wheel. They worked great to block out the sun, especially when we were in Alaska in July and the sun shines past midnight. We usually kept them rolled up when we traveled but sometimes left them down they sometimes came up on the drive. We did not install a latch to hold them in place but you easily could. You can find the blinds we bought here http://bit.ly/2g1LA1T.
Q: What did you do on the edge of the slideout for flooring?
A:We used the Allure Traffic Master for the flooring and extended it about half an inch over the plywood from the slideout. It might not be the perfect finish but it worked for us. WE had some spare flooring left in case a bit of flooring tore.
Q:What Sofa did you buy?
A: We purchased the SOLSTA from IKEA. It is a pullout but can only sleep 1 adult or 2 children comfortably. I would not recommend 2 adults, it was only for when we had a guest.
Q: What did you do with the flooring int he bathroom did you remove the toilet?
A:From memory, we only removed the front cover of the toilet and used the Allure Traffic Master as close to the flange as possible.
Q: How did you transform the fridge?
A: We removed the wooden panels from the fridge door and painted them, then reinstalled them.
Q: What dinning table did you buy?
A:We got the NORDON table from Ikea, we used clear velcro to keep the drawer closed when e were driving. It worked great. Her is the link http://bit.ly/1n48IgB
Q: I want to replace my RV floor and paint, where do you start?
A: The remodelling process can be fun but also hard work. Replacing the carpets or flooring makes a big difference, but almost everything needs to be removed to remove the old flooring. Often when RV are constructed the flooring is put in before the bed or any other fixtures are screwed down. We had to remove basically everything to remove our old flooring. We chose to use a spray gun to paint so we removed everything and started on a clean slate, if that is not an option for you I would suggest tackling one project or section at a time, eg paint one wall, replace the blinds, change a mirror.
Q: Did you paint over the wall paper?
A: The only wall paper we removed was the small strip in the middle of all the walls in the main cabin. You should be able to see on the photos. After that we spray painted over everything.