7 things to do in Hong Kong
I really enjoyed being in Hong Kong. Partially because I grew up there, and a part of me will always call in home. But another reason is that it is so diverse and constantly changing. There is so much to see and do there. It is a bold, vibrant city that I would highly recommend everyone visits at least once in their lifetime! Putting together a list of things turned out to be quite a  challenge because I have to limit it to just a handful of things, seriously, there is so much to see and do! Anyway, enough of me blabbing away, here is my list of 7 things to see and do!
You can do anything and everything with an Octopus card in Hong Kong. It works with all public transport; think taxi's, busses, trains, ferries etc. BUT you can also use it on things such as vending machines, 7-11 stores, McDonald's… most places actually accept Octopus Card as a form of payment. It's amazing, and it makes getting around so much easier.
If you're like us and love to sightsee with great views then the Peak is definitely for you! There are many ways to get up to the peak, Taxi, Bus or Tram. The Tram is probably the most exciting "touristy" way to get up there, but taking a bus can also be fun. It's a steep drive up, so be prepared to literally sit on the edge of your seat. Once you're at the Peak, there are a tonne of restaurants and shops for you to look around at. At the very top there is a 360 degree lookout point which is stunning. They even have a free audio tour that you can use if you're interested in the history of all the landmarks that you're looking at. You do have to pay a small fee to get to the lookout point, but trust me, it's worth it.
A shoppers paradise! These markets have everything that you could possibly want from clothes, to handbags, to phone covers, to watches, the list is endless. I was looking for a purple beanie, and found it within 10 minutes. Be warned though, this place can get very crowded and you have to be prepared to barter the prices. They start very high. I actually wrote a blog post with some bartering tips if you wanted to check it out before you head to the markets! Something that we liked about the Markets was that we could go to a 7-11, buy a beer (with our octopus cards!) and browse the stores with beer in hand. This is not a luxury that we have in Australia.
Seriously, the choice of restaurants and food in Hong Kong is limitless. It can be as cheap and expensive as you would like. There are awesome restaurants from every cuisine around the world. Local street food is available around every corner. We love to walk around SoHo and Knutsford Terrace. Although there is much more out there. I recommend checking out this website for all your dining options!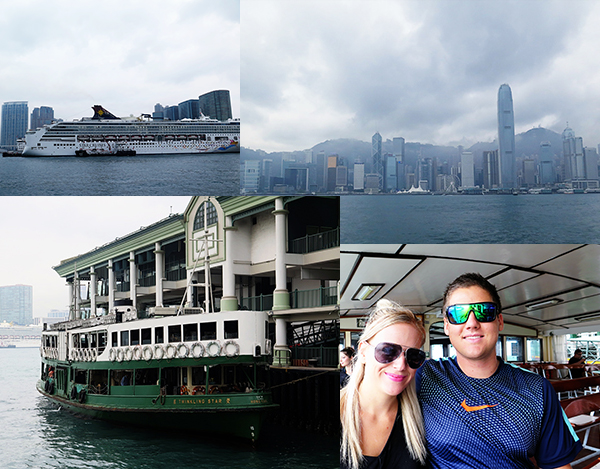 The star ferry has been around since 1888 first operating as the Kowloon Ferry Company, adopting is current name in 1898. It has a number of cross-harbour routes that you can choose from such as Central to Tsim Sha Tsui (the most common). Each boat has a unique name and its a fun way to get around and see Hong Kong from the harbour.
There is so much diversity when it comes to all the buildings in Hong Kong. You've got all your old historic buildings, which many people still live in, to your brand spanking new modern buildings such as the IFC building. You can't miss any of these when you're wondering around the streets of Central.
Last but certainly not least, make sure you take the time to visit the Hong Kong Big Buddah. There are a number of ways to get to Ngong Ping, but by far, the best way to get there is to take the 360degree view cable car. Details on this can be found here. Once you're up there, you can walk up the 268 stairs to get a closer look at Buddah. There are also a number of restaurants and shops which can be found at the peak of the Buddah. Opposite the statue, is the Po Lin Monastery.
There are many more things to do in Hong Kong, and after growing up there, I can definitely vouch for the fact that it's one of the most beautiful, exciting, rich, vibrant cities in the world!